TRACTORS AND EQUIPMENT
Advice&Consulting only recommends certified machinery for orchard management. Everything is produced in Italy, from the manufacture of components to their assembly.
We select only the best machines on the market, in terms of performance, solidity, stability and safety:
with the best product distribution for plant treatments
with low noise pollution / emissions
with low power consumption
with reduced fuel consumption
with reduced emissions / pollution
We provide efficient after-sales assistance and supply spare parts for every piece of machinery.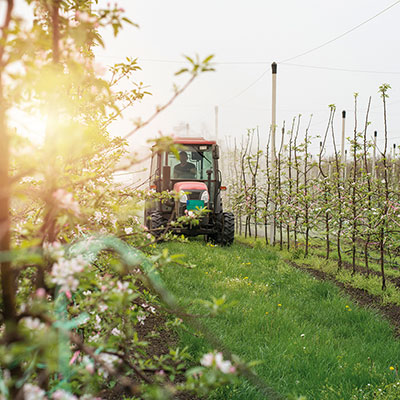 Tractors for primary and secondary procedures such as anti-parasite treatments, mowing, wood chopping, harvesting, spreading granular fertilizer, weed control and towing of fruit harvesting trailers.
Fork lifts for loading/unloading produce, with crate clamps.
Hydraulic harvesting lifts/platforms for setting up and fitting support and protection accessories, thinning and pruning (for up to 4/6 people).
Sprayers for optimal distribution of leaf treatments, con steering rudder, electric controls and patented tank..
Mowers with automated arm extension.
Sprayer booms for weeding between the rows, with electro-hydraulic movement and anti-drift bells fixed on the front of the tractor.
Fertilizer spreaders for localised distribution on orchard rows between 2 to 5 metres, can also be used in open fields.
Wood chopper for pruning with hydraulic movement, adjustable rear offloading, reinforced rotor, can cut up to 8 cm in diameter.
Rakes for moving pruned branches from beneath the plants for chopping, front loading with single or double brush..
Harvesting trolleys for speeding up the harvest and reducing bruises to a minimum.
Hydraulic rear mounted elevators for moving crates of crops from the platforms, with electric controlled crate clamps.
Pruning compressors (can be attached to the tractor) + pneumatic shears for pruning from the fourth year onwards.
Vertical rotary tillers for filling holes, with a toothed rear roller.
Transplanters for digging and filling the furrow when planting.
Washers (hot water) for washing the machinery and bins before harvesting the fruit.
WORK TOOLS
Advice&Consulting also provides support to its clients through the supply of high quality Italian technical tools required at the various stages of orchard management.
Tying back the plants
Agricultural binding twine: used for tying the plants to the wires of the orchard support structure. Made of PVC, it stretches to allow the plants to grow and is weather and frost resistant. Knots last at least 5-6 years. Advice&Consulting recommends a diameter of 5 mm.
Cutting ring for binding twine: used to speed up cutting of the binding twine, made of aluminium and available in various sizes (20, 22, 24 mm in diameter).
Pruning
Lightweight ergonomic shears: practical and easy to use, these shears weigh only 170 g and are ideal for pruning younger plants, for cuts of up to 22 mm. The ergonomic handle and the curved blade mean that the user's wrist is kept in a natural position and is subject to less pressure while pruning. The blade is made of hot-forged steel and is fully interchangeable and adjustable.
Professional branch cutters, Tucano model: these are recommended for effortless cutting of branches measuring between 22 and 50 mm and pruning fast growing orchards, especially stone fruit trees. The aluminium handles are pressure-resistant. The blade and tie-rod are made of steel, with a high percentage of carbon, hot-forged and surface-treated with a life-time guarantee against breakage. It is fully interchangeable and adjustable.
Professional folding saw: practical, easy to use and safe, this is recommended for cuts over 50 mm. The teeth have a long-lasting, three-level sharpening on a blade made of carbon steel that has been treated to reduce friction. The ergonomic handle snaps closed and every part is fully interchangeable.
Knife for incisions: for making incisions in the trunk of the plant (recommended for cherry trees) in order to aid the growth of new branches.
Harvesting
Ring gauge: for measuring the size of fruit over 30 mm, with 13 rings. Made of aluminium, it is lightweight and pocket-sized.
Brix refractomete: for measuring the sugar concentration of the fruit in order to determine the potential alcohol content of the must, from 0 to 18% on the Brix scale. Thermo-compensated (automatic temperature compensation), made of alloy, with crystal prisms and lenses.
Penetrometer: for measuring the hardness of the fruit, in order to decide when to harvest and to control the ripening process (softening of the fruit pulp) in cold storage. Index reading in kg/cm2. Comes with the following stainless-steel accessories: rods, splash guard and peeler.
Rain gauge: plastic tool for measuring rainfall, with a fixed support, 80 mm in diameter and 200 mm in height. This can be used to decide how to manage irrigation after rain and is essential in anti-parasitic treatments for disease prevention.
PH meter + digital conductometer: for liquids and soil, a pocket-sized tool for measuring the PH and salt levels in water, to prepare fertilizers and anti-parasite treatments. Measures on a scale of 0-14 p, with precision to ± 0.2 PH, resolution 0.1, automatic temperature compensation, manual calibration to one point.
Bin trolleys: for harvesting and depositing the fruit directly into the bins, without bruising it. The towing system features an articulated steering drawbar, which enables more trolleys to be joined together and stay on the same path.